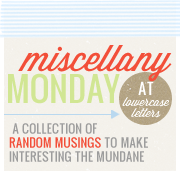 1. Happy Martin Luther King Jr. Day, I hope you all reflect on the importance of the day AND enjoy the extra time you have to get things done if you have the day off.
"Darkness cannot drive out darkness; only light can do that. Hate cannot drive out hate; only love can do that." ~ Martin Luther King Junior
2. On Saturday night myself, E, and my fam, went to a benefit for a friend of my sister's whose husband was recently diagnosed with brain cancer. It was great that a lot of people turned out and they were able to raise a lot of money for the family who are struggling now and who definitely need the help. They have two small kids and just thinking about the situation makes my heart hurt. That's why I think it is so important that if there is something you want to do or something you want to say to someone you should do it at the first opportunity.
3. The rest of the weekend did not really turn out as planned either. As we were leaving the benefit my Dad missed the last step and fell on his knees on the concrete. We brought him home, but the next morning my mom realized it was worse than we thought so he went to the emergency room. We were concerned that he might have shattered his whole knee cap. It turns out he ended up bursting a tendon... he got surgery right away last night and is recovering now. I guess he is going into retirement with a bang and won't be going to his last two days of work. I hope he feels better soon!! :(
4. I feel like I did awesome eating healthy and going to the gym this week. I went to the gym 5 times and kept track of everything I ate. I hope I see some progress when I weigh myself!
5. Hopefully today is a productive day! I am going outlet shopping with my sister, going to visit my dad at the hospital, hopefully studying for the entrance exam I need to take next week, doing some wedding planning, and doing grocery shopping/planning for the week. I'll get that all done in the next 12 hrs, right?? ay ay ay!
Hope you all have a great week!