Weekend Pluses and Minuses----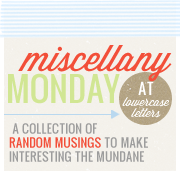 Friday
+ Friday night warm enough to grill AND eat outside.
+Viewing middle school yearbooks is FUNNY.
-$9 cocktail. I don't live in the big city. One drink SHOULD not cost that much.
Saturday
+ More warm weather!
+ Beach walks with the puppy.
+Nephew's baseball game.
(-They lost bad!!!)
+New Pier 1 lantern and outdoor patio lights!
+Out to dinner with the fam....
(-food = not that good, waste of calories)
-Need to buy a new car battery..... ps I want a new car, bad!!
Sunday
-Had to get an MRI and a IV... not fun. The docs incidentally saw a spot on my liver a few months ago and had to check it out further. SCARY. I felt like I was in a space ship, I just closed my eyes the whole time!
(++++Doc called me back this AM to report that everything is fine. Turns out you can have birthmarks on your liver, who knew!)
+After coming back from my space mission (haha) we spent the rest of the day outside!
+Hike in the woods.
+Lunch at our fave coffee shop.
+Playing baseball with my nephew (who can hit it outta the park now)
-Got too lazy to grocery shop!
+My aunt (who lives two houses down from us) brought over some angel food cake with strawberries and whipped cream!
-Can't hang our patio lights because there are no outlets on our porch!
-Airline tickets are crazy. They rise and fall with no apparent explanation....
well, more pluses than minuses, that's always good!
HOW WAS YOUR WEEKEND???
In other news, E starts his new job today. I'm so excited for him!